Treasury and Investments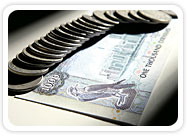 In today's increasingly sophisticated world, the depth of capital markets and breadth of financial instruments continues to evolve. Every investor and business faces challenges on either how to best hedge various financial risks, or in the selection of the best investment product that offers optimum return given its risk profile.
At ADCB, we closely work with our clients and resolve complex financial challenges such as liquidity and cash flow management, interest rate, foreign exchange, equity and commodity price exposures, and advise and explain through a variety of investment choices, whether they are bespoke solutions or traded in the capital markets. The mission of our Treasury and Investment Group is to provide ADCB's clients with innovative tailor-made financing and risk management solutions, to provide access to local and international capital markets and to provide investment solutions and structured products that meet the clientís needs.
ADCBís Treasury and Investment Division offers:


Foreign Exchange
Money Markets
Interest Rate Derivatives
Fixed Income
Equity Derivatives
Commodity Derivatives
Structured Products
Risk Management Solutions
ADCB Treasury is one of the most sophisticated in the GCC. Our trading and structuring takes place in Abu Dhabi and makes ADCB very responsive to client needs.
Our experienced team of specialists are equipped with the most advanced systems and technology, enabling us to provide you with world-class service and a comprehensive product range.
Housed in our Head Office in Abu Dhabi with a satellite team in Dubai, our Treasury Group ensures you the best possible support, in the UAE and abroad.
Please contact us either through your ADCB relationship manager or else directly, to discuss your requirements.
Our comprehensive range of products

Contacts