Unlimited complimentary lounge access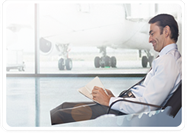 Travel with your ADCB Credit Card and enjoy a richer experience than before.
Whether travelling abroad on work or leisure, with your ADCB Credit Card you now enjoy Unlimited complimentary access to premium airport lounges across the many cities where you love to travel.
Based on the type of card you hold, your lounge access is as follows:
ADCB Global Lounge Access
Access a growing network of Veloce lounges across the world by simply presenting your eligible ADCB Credit Card - no matter which airline or class you fly. No need to carry a separate card for lounge access, simply present your card at the lounge reception desk and ease the stress of travel in the comfort of a premium airport lounge before your flight.
The lounge access is valid on presentation of the following eligible ADCB Credit Cards:
ADCB Excellency Infinite Card
ADCB Platinum Card (Visa and MasterCard)
ADCB Islamic Banking Platinum Card
ADCB LuLu Platinum Card
ADCB Corporate Exclusive Card
Please be advised that all existing Priority Pass cards will be discontinued on 1st December 2013. Lounge visits made with a Priority Pass card from the 1st December 2013 onwards will be billed to your card's account (USD 27 per person per visit).
For the complete list of lounges, please visit www.velocelounges.com
Visa Infinite Global LoungeKey Access
Our most valued ADCB Visa Infinite Cardmembers are now welcome at over 500 airport lounges worldwide, thanks to the "LoungeKey" program by Visa.
Sit back and relax as you wait for your flight in the lap of luxury. Savour the moment, go online, watch a movie or have refreshments at the lounge. And when the time comes, board the plane at your leisure.
Privileges:
Online registration of your Visa Infinite card is mandatory to activate your card for LoungeKey, gain access to the lounges and enjoy:
Unlimited, complimentary access for Visa Infinite cardholders and 1 guest per visit*
Convenient access to program details via mobile app, call centre and website
Customer service support via dedicated helpline
- International +44 (0) 208 865 0764
- UAE Toll free +971 8000 444 1822
Please note, you will not be able to gain access to the lounges in the LoungeKey program without registering your card first.
To register or learn more about the LoungeKey access for Visa Infinite, including a list of airports where the privilege is available, please visit www.loungekey.com/visainfinite.
*Additional guest/s visits, over and above the entitlement, will be charged at a flat rate of $27 per guest per visit directly on the registered card.
MasterCard Regional Lounge Access
Courtesy of MasterCard, ADCB MasterCard cardholders enjoy privileged access to the following airport lounges across the Middle East on presentation of their following valid MasterCard cards:

ADCB LuLu Platinum Card and Titanium Cards
ADCB Platinum Card and Titanium Card
ADCB Corporate Exclusive Card
ADCB Corporate Card
Simply present your ADCB MasterCard card and enjoy privileged complimentary access to the following airport lounges:
UAE

Dubai International Airport, Marhaba Lounges at Terminal 1,2,3 (Concourse A and B) and Terminal 4 at the Dubai World Central

Egypt

Cairo International Airport, VIP Lounges at Terminal 1 and 3

Jordan

Queen Alia International Airport Amman, Crown Lounge

Kuwait

Kuwait International Airport, Pearl Lounge

Saudi Arabia

Dammam International Airport, First Class Lounge (Foreign Airlines)
Jeddah International Airport, First Class Lounge (Foreign Airline - North Terminal)
Riyadh International Airport, 'Premier Lounge' in Terminal 1 (Foreign Airlines)
Lounge access is restricted to card holders only. For detailed terms of lounge access, please visit www.mastercard.com